Bilal Dídac P. Lagarriga

MÚSICA/MUSIC
Bilal Dídac P. Lagarriga's music project Un caddie renversé dans l'herbe since 2000 (check discogs, bandcamp, spotify, applemusic, youtube...)

::::::::::::::::::::::::::::::..........................................

Instagram: @un_caddie_renverse_dans_herbe

YouTube channel: https://m.youtube.com/channel/UCqVp5D5CTxNqQ6es6atbZkw

::::::::::::::::::::::::::::::..........................................
"Didac P. Lagarriga, a man capable of atomising and blending a global array of influences without succumbing to the cloying blandishments of "World Music" or "fusion", just a series of steadily hypnotic, subtle and deeply satisfying revolutions." (The Wire, UK)

"He never ceases to amaze us with its musical and minimalist rhymes full of finesse and cosmopolitan influences. With a little curiosity and a real desire to be astonished, the listener will undoubtedly be able to find his place in the singular and attractive universe of Un Caddie Renversé dans l'Herbe and understand, if need it, that it is possible to approach music from singular angles without falling into caricature." (Benzine magazine, France)

"A beautiful, unassuming blanket of multiethnic instrumentation arranged via the artist's laptop, which acts merely as a locus for connecting the various parts of this one-man, transcontinental ensemble. […] Un Caddie escapes easy estimations, harping on his exploratory sound-grabbing or fusionist approach, by creating songs that arrive with a haphazard slowness, quietly building around simple, effective figures". (Brainwashed, USA)
::::::::::::::::::::::::::::::..........................................

N E W - A L B U M - N I G H T U R N S - N O V E M B E R - 2 0 2 2 - P U B L I S H E D - B Y - C E L L U L E 7 5 / D E K O R D E R
Nighturns
18 tracks, 53 minutes

Un Caddie Renversé dans l'Herbe aka Bilal Dídac P. Lagarriga: mbira, kalimba, balaphon, vibraphone, melodica, flute, electronica.
Collaborations:
o Du Balimb (xilophone and marimba on tracks 1, 2, 5)
o Maktar Diop (voice on track 7)
o Daara Touba taalibés (Koranic school pupils) (chant on track 9)
o Djibi Fall (voice on track 15)
o Cheikh Fall (chant on track 10)
o Mbacke Baye Falls (chant on track 18)
o Eulàlia Fanar (cello on track 4)
o Ahmed G (clarinet on track 5 and saxo on track 14)
o Pela (voice on track 3 reciting the poem "Kulu-Kulu di Lalayu" by Haji Hasan Mustapa)
Soundscapes and ritual chants recorded in Mbacke, Diourbel and Touba (Senegal), 2017-2020.
Piano (tracks 5 and 12) recorded in Radio Contrabanda, Barcelona, 1995.
All tracks edited in Barcelona, 2021-2022.
Artwork & Mastering by Marc Richter
https://cellule75.bandcamp.com/album/nighturns

Barcelona, 2022. Photo by Isaac Prunera
Argentina, 2000.

::::::::::::::::::::::::::::::..........................................
Witteveen+Bos Art+Technology Award 2014
by Geert-Jan Hobijn
With IlpoVaisanen, John Hegre, Un Caddie Renversé dans l'Herbe, Muslimgauze, Jim O'Rourke,
Staalplaat soundsystem
This release consists of a book, a record player, a 7" single and a small electronic sound device.
The 48-page book shows some of Hobijns work through several photos, an introduction by Douglas Kahn, and an essay by Jorinde Seijdel.
The 7" single contains 20 locked grooves on each side that you can play manually using the needle attached to the bookcover or using a regular turntable. The locked grooves on the a-side are taken from the Yokomono loop records and the locked grooves on the b-side are from Yokomono 02 (empty ) so you can scratch them and creat your own rhythms.
The electronic sound device is an instrument that can be played by moving your fingers across the light-sensitive sensor.

https://staalplaat.bandcamp.com/album/witteveen-bos-art-technology-award-2014

::::::::::::::::::::::::::::::..........................................


"Atlas saltA (map lies, border lies)" - minicd (Dekorder, 2005. Hamburg)




"Like a packed cupboard but quite..." - LP/CD - (Dekorder, 2004. Hamburg)




"Now there's a weird taste in my mouth" minicd (dekorder, 2003. Hamburg)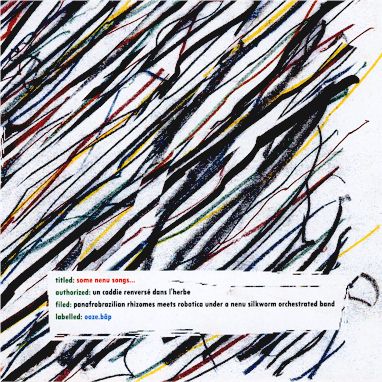 "Some Nenu Songs" - CD - (ooze.bāp, 2002. Barcelona)




"Polyhedric tetrapak" feat. remixes by Dj Olive, Alejandra & Aeron, Stephen Vitiello, Erik m and OnCe11
- CD - (ooze.bāp, 2001. Barcelona)




"Totlop pak" - CD - (ooze.bāp, 2000. Barcelona)

________